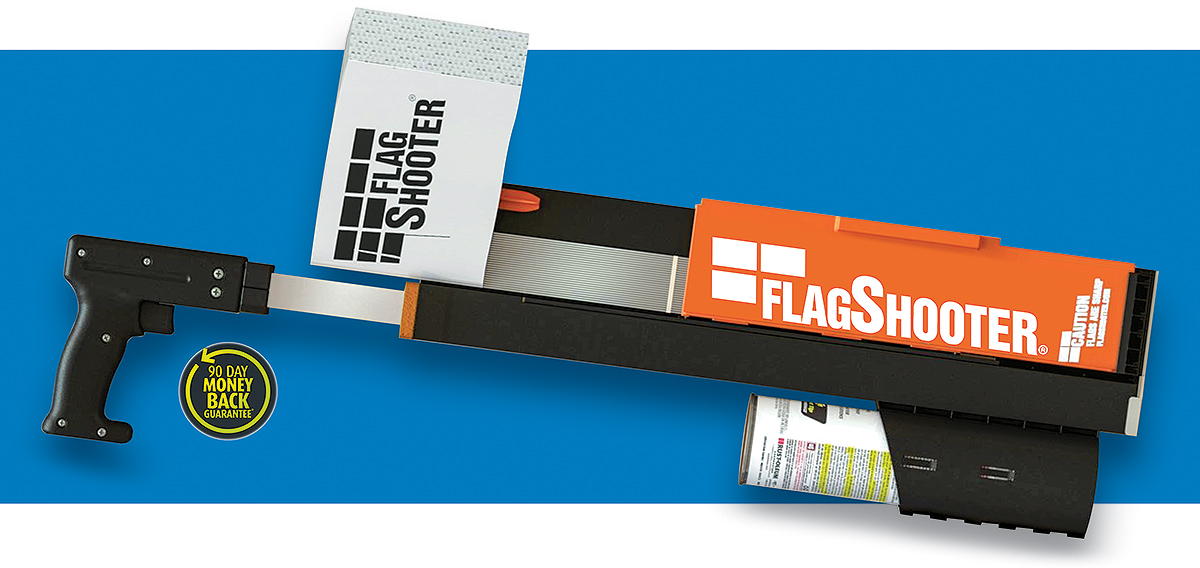 FlagShooter. The Best way to Paint, Flag and Profit...Guaranteed!
The FlagShooter uses patented marking flags. We provide all colors of flags for all industries. Our flags are a 5 inch by 6 inch flag. Your choice of custom imprinted or color-only flags.
Try the FlagShooter...We're certain you will enjoy the savings and benefits!
The FlagShooter uses Patented Marking Flags
40% Faster Locates, Tickets Completed Faster
Reduces Labor Costs - Easy to Use, No Extensive Training
Hard or Frozen Ground - No Problem
Rugged, Long Lasting Design
No More Bending, Safer On Your Back
25 Flag Capacity, 1 Paint Can Capacity
1 Year Warranty

Aervoe Survey Marking Paint
A superior upside-down marking paint (petroleum based) designed for survey marking. It provides the best quality paint in terms of color visibility, retention, and durability. 12 cans/case, Priced per Case.
Mark will last up to 6 months
Non-freezing
Operational to 14°F (-10°C)
FREE FREIGHT WHEN ORDERING 76+ CASES, PLEASE CALL
Browser Compatibility Warning
The browser you are using is not supported on this site. You may experience issues with some features on the site. It is recommended that you use one of the following browsers - Chrome, Edge, Firefox, or Safari.